At the dawn of the twenty first century West Hagbourne still retains its essential rural character, despite the growth of nearby towns and the increased traffic. Several working farms are still active within the parish, their fields providing a swathe of green around the village.

West Hagbourne has its share of picturesque thatched cottages and listed buildings. It once had its own mill, village stocks and cob walls. A small section of one still exists. The Horse and Harrow public house dates from at least 1754.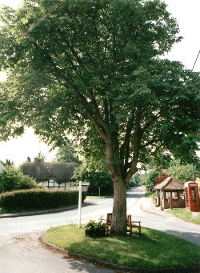 The seat under the chestnut tree in the Square provides a shady resting place at the heart of the village whilst the village pond provides an oasis of calm and an attraction for children intent on feeding the resident ducks.

Beneath this tranquil surface lies a fascinating and, at times, turbulent history. The story of West Hagbourne starts with a Bronze Age settlement, continues with manorial links to William the Conqueror, intrigue at court in the fourteenth century and royal patronage during the reigns of Henry VIII and Elizabeth I.

Great national events have touched the lives of the people who lived here. West Hagbourne's past is truly woven into the history of England and can be discovered in Windsor Hakeborne - the Story of West Hagbourne, written, researched and published by the Village History Group.

Click here to find out more about Windsor Hakeborne.