This web page is for villagers to post notices that might be of interest to others living in the village and for public notices from the parish council. To place a notice on the notice board please email the webmaster. Please also advise the webmaster when the message can be removed.
Please note that the Website Committee reserves the right not to post any notice on the website it considers inappropriate.
Do you recognise this stray cat ?
Click for more info
THE OXFORDSHIRE COMET
( A new bookable transport service)

Oxfordshire residents who dont have access to suitable public transport can now prebook a seat in a 16-seater minibus, either for exclusive use, use by an organisation or group or for shared travel.
The new service is operated by Oxfordshire County Council and is known as The Oxfordshire Comet.
Click

here for more information.

Results of the 2016 Dragons competition are as follows:
Ist prize: The knitted family of dragons celebrating the Queen's Birthday at 1 Manor Close
2nd prize: The dragon astride the birthday gift at Chapel Hays
Children's prize: Little Acorns Day Nursery
Special mention: The dragon at Fairview and the dragon peering out of the bushes beside the pond.
Click here to see photos of all the dragons.
EARTH TRUST SUMMER/AUTUMN EVENTS
2016
The Earth Trust, based at Little Wittenham, has a range of activities on offer throughout the year, from guided walks and talks to countryside skills courses and their extremely popular lambing weekends in spring. Their events aim to be fun and informative for all who attend.
Full details of the Earth Trust summer/autumn events can be found on their website: www.earthtrust.org.uk.
Had enough of heavy lorries coming through the village illegally?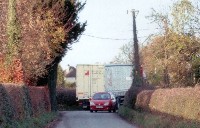 Click here for information about how to report these lorries.
RELIABLE LOCAL TRADESMEN
Oxfordshire Trading Standards can provide you with details of reliable local tradesmen and women to carry out work around your home and garden. The Buy with Confidence Scheme brings together a list of gardeners, plumbers, builders and many other types of business from all over Oxfordshire, which have been individually checked for trustworthiness and compliance with consumer protection laws.
For details of firms you can trust, visit the interactive consumer website at buywithconfidence.gov.uk or call 0845 051 0845 to talk with Trading Standards
The village lunch club continues to meet every 3rd Friday in the month at the Horse and Harrow at 12.30.
Please contact Sue Totterdell 850080 or Marion Judd 850143 by the Wednesday before to book your place.
FOR SALE AT MANOR FARM
Phone Sue Lay on 850738 or call at farmhouse back door
UPTON DROP-IN SESSIONS FOR THE ELDERLY
INVITATION
Upton Parish Council holds fortnightly drop in sessions for elderly people in and around Upton to enable them to meet with others over a cup of coffee and a biscuit. People from West Hagbourne are very welcome.
If you are interested in going (or know someone who might be interested) they are usually held every other Thursday at Upton Village Hall.

There is a nominal charge to cover the cost of refreshments.
For further information contact Yvonne Collins on 01235 850989

ED VAIZEY MP

CONTACT DETAILS & SURGERY DATES
Click here
REPORTING POTHOLES AND OTHER HIGHWAYS MATTERS
Please report potholes direct to Oxfordshire Highways. You can do this online. Click here for information about how to do it.
The surface repairs and drainage works to Moor Lane appear to have been completed and Moor Lane is NOW OPEN.

There is hope again that in the near future we will get faster broadband in West Hagbourne as work is now under way to instal and change connections over to our own new village telecoms cabinet.

A planning notification was sent to SODC in February for the installation of a brand new
telecommunications cabinet on the corner of York Road and Main Street, beside Lizard Bank with FTTC (Fibre to the Cabinet).
This will mean that West Hagbourne residents should at last be able to access the 'superfast'
broadband speeds that have been available to other properties in the Blewbury Exchange for some time.

Virgin too may eventually decide to install fibre cables in the village and have already requested that potential customers register an interest. Whilst there is no guarantee that Virgin would deliver their system to us it is worth trying.
To register interest with Virgin go to;